Happy Birthday Archibald Menzies!
On this day 15th March in 1745, Archibald Menzies, our renowned Botanist was born. Rory and Lisa Menzies visited his bust in Van Dusen Gardens, Vancouver, Canada to wish Archie a 'Happy Birthday!' The Menzies Mourning Tartan tie really suits him!
Archibald Menzies Background
Perthshire is known as 'Big Tree Country', and many of the tall conifers growing in its forestry plantations were first discovered by a native of the county, Archibald Menzies. He even 'discovered' the Californian poppy, which at the recent royal wedding was one of the flowers embroidered on Meghan Markle's veil.
Archibald Menzies – naval surgeon, botanist and explorer – was born and brought up at Styx House on the Bolfracks estate, near Aberfeldy in 1754, and worked in the grounds of Castle Menzies in Weem, before moving to the Royal Botanic Gardens in Edinburgh. Menzies combined his career as a naval surgeon with the collection of plants and seeds for the eminent Sir Joseph Banks at Kew, discovering more than 400 species of plants previously unknown to science.
During a voyage with Captain George Vancouver from 1791 to 1795, he was the first Briton to visit the giant Californian redwoods and is famed not only for the discovery of the Douglas fir and the Sitka spruce but also for being the first European to successfully bring back living examples of the 'monkey-puzzle' pine which grows so well in Perthshire gardens.
When he retired from the navy he settled down as a medical practitioner in London, where he died at the age of 88 in 1842.
Taken from A Date for your Diary (below) by Fran Gillespie.
LONDON AUG 6 – A DATE FOR YOUR DIARY
All Soul's Cemetery, Kensal Green, London at 2.00 pm on Tuesday 6 August 2019.
The Restoration of the last resting place of Perthshire Botanist Archibald Menzies is completed and a ceremony to celebrate the life of this great man and to re-dedicate his restored grave will be held beside his grave site.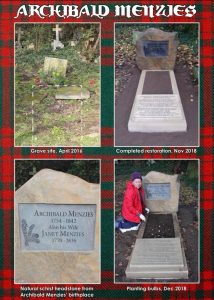 Many thanks to all those who contributed to the funds to restore the grave of the famous plant collector Archibald Menzies. All are most welcome to attend. The Revd. Angus MacLeod of St.Columba's Church of Scotland in London will officiate, and a wreath will be laid by a representative of the Linnean Society. Retired forester Syd House will give a short address on Menzies' remarkable career and there will be a performance by the Scottish singing duo PlaidSong. We're still working on the details of the programme and hope to engage a piper
and to arrange a gathering at a local hostelry afterwards, further details in due course.
HOW TO GET THERE
The cemetery is right opposite Kensal Green Underground Station on the Bakerloo line. Cross Harrow Road, turn right and walk the short distance to the west gate, not the main gate. From the west gate the distance to the grave is five minutes' walk…
For a plan of the cemetery showing the square number [145] to enable you to locate the grave
(there are 65,000 graves in the cemetery so the plan is essential)
please contact fran.gillespie
---
Congratulations Fran Gillespie!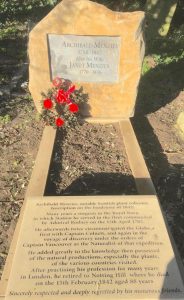 In 2016 Fortingall based writer, Fran Gillespie, published a magazine article on Menzies, and during a visit to London she went to look for his grave in the vast garden cemetery at Kensal Green.'
I was shocked when I saw it,' said Fran. "His headstone was in pieces, any inscription had long since worn away, and the plot was overgrown with weeds and ivy. I decided there and then that something had to be done about it.' With the help of members of the Menzies Clan Society, the Archibald Menzies Memorial Appeal was set up with a target of £5000 to have the grave restored and planted with perennial shrubs discovered by Archibald Menzies
Excerpt from an article written by Melanie Bonn 13 July 2018 published in The Daily Record.
---

How the Archibald Menzies Appeal started…
Reproduced with kind permission of Nicky and Syd of PlaidSong from their Blog entry Aug 17, 2018
I'm Fran Gillespie, a free-lance writer with a particular interest in the natural environment, and was intrigued to discover, when I came to live in the Perthshire village of Fortingall in the early 1980s, that the great Scottish plant hunter Archibald Menzies was born not far away and had worked when a youth at Castle Menzies before leaving for Edinburgh and a career as a naval surgeon and plant collector that was to take him all over the world. I found that the Biblical saying that a prophet is not without honour save in his own country was very true – not many local people I spoke to had ever heard of Archibald Menzies –so I decided to write about his life for a local magazine and hopefully get him better known. Several visits to the library in Perth and a trip to the archives at the Royal Botanic Garden in Edinburgh [RBGE], where staff showed me the collection of letters from Menzies to his former mentor, the director, Sir John Hope, gave me enough material for the article, which was published in 1983.
In 1985 I left to work in the Middle East for thirty years, and when I came back was pleased to discover that not only was Menzies now commemorated in the Scottish Plant Collectors Garden at Pitlochry but also had a room dedicated to him in Castle Menzies, with a display about his life and work. He was beginning to be recognized on his own patch, so to speak! Time for another article about his remarkable career – again for a Perthshire magazine. This was published in April 2016 and on a visit to London that month I decided to go along to Kensal Green cemetery to track down his grave and pay my respects.
The first of the great London garden cemeteries known as 'The Magnificent Seven', Kensal Green was opened in 1833, only nine years before Archibald's death at the great age of 88. His wife Janet had predeceased him and is buried in the same grave. The early graves lie in an unmaintained wilderness area along one side of the vast cemetery and I was appalled to discover that Archibald's grave was a weedy hollow scattered with fragments of a broken headstone and ledger, any inscription on the soft Portland stone long since worn away by pollution. There and then I decided that something had to be done about it.

The grave in Kensal Green cemetery
I contacted the Menzies Clan Society [MCS] and sent the board members photographs of the present condition of the grave. They immediately offered to make a donation for its restoration, but said that they could not undertake fundraising at present as they were fully committed towards raising money to restore the walled gardens at Castle Menzies, part of which is now named after Archibald and planted with some of his discoveries.
However I received a lot of support and encouragement from the MCS when I set up the Archibald Menzies Memorial Appeal, and generous donations from many individual members.
I estimated a complete restoration of the grave would cost in the region of £5000, and hopefully there would be enough funding above that figureto allow for its maintenance for some years. There followed two years of fund-raising, ranging from crowd-funding sites and the writing of innumerable begging letters to companies and organizations, to cultivating and selling garden plants discovered by Archibald, such as Baby Blue-eyes. Atholl Estates contributed a very
generous £1000 with which to start the ball rolling, and gradually the funds started to accumulate.
A big break-through was when Henry Noltie, head archivist at the RBGE, put me in touch with Dr Nick Menzies, a botanist in California. He immediately offered to raise money in the States, and the final total raised by his GoFundMe site was a magnificent US$2000. Menzieses in Australia and Canada also contributed and raised funds.
This year I was introduced via a contact in the Forestry Commission Scotland to retired forester Syd House, who told me he was one of a singing duo named PlaidSong along with his partner Nicky Small. Syd offered to give a concert to help with the fund-raising and suggested Castle Menzies as a venue. What a brilliant idea! The Menzies Charitable Trust which owns the castle willingly gave permission for a large public room in the building to be used, and on 4 August the concert took place with an enthusiastic audience of around 80 people. Syd and Nicola gave an account of the life and times of Lady Nairne, a staunch Jacobite and secret composer of songs who was an almost exact contemporary of Archibald Menzies, and performed some of her songs. The donations totalled £900, bringing the amount of funds to comfortably over the target figure.
Home and dry at last!

Nicky, Fran and Syd at Castle Menzies
Work on the restoration by Robertson Granite of Aberdeen is now going ahead and will be completed before the end of 2018. A natural schist boulder from Bolfracks Estate near Aberfeldy, where Archibald Menzies was born, will be engraved the names and dates of Archibald and Janet Menzies beside an engraving of monkey puzzle branch – the monkey puzzle was one of the many trees he is credited with discovering. The grave will be surrounded by an edging of York stone and planted with perennial shrubs discovered by Menzies, and at the foot will be a stone plaque engraved with the original 100-word inscription, subscribed to by his many friends, which appeared on the original headstone of 1842. Next year, when everything is complete,
we plan to have a gathering at Kensal Green to celebrate the completion of the newly restored grave.
Hopefully the Friends of Kensal Green, who conduct visitors on tours of the last resting places of the many famous names from all walks of life, may be persuaded to include that of Archibald Menzies.
Fran Gillespie 2018

Songs of Lady Nairne at Castle Menzies
Nicky and Syd, PlaidSong, at Castle Menzies
We had a fabulous evening at Castle Menzies on August 4th. We were given a really warm welcome from our hosts and, with over 80 in our audience, we were delighted to bring our songs and the story of Carolina, Lady Nairne to Castle Menzies.
The evening was the idea of Fran Gillespie who wanted to raise awareness about the life and work of Archibald Menzies. Archibald was born in the Aberfeldy area in 1754 and was a pioneer in documenting and collecting plant species from around the world. As a surgeon naturalist he was an explorer and adventurer whose most distinctive addition to our gardens was the Monkey Puzzle Tree.
Syd's background in forestry and his own research on David Douglas, another Perthshire plant hunter, meant we could not miss the opportunity to help Fran raise some much needed funds in order to support her plans to restore Menzies' grave in Kensal Green cemetery in London. Long neglected and hardly equal to the memory of such a notable Scot, Fran wanted to let people know about his life and work in order to restore the grave. Fran outlines her inspiration for her project and her hopes to rededicate a new gravestone in the coming year – see her guest blog post. Syd and I will be writing a new song dedicated to the famous Monkey Puzzle man!
As a contemporary of Lady Nairne, it seemed fitting that we intertwined his life with her experiences and the mix of songs and life stories was really well received. Our audience included the author Jim McCarthy who wrote a wonderful book on Archibald's life, Monkey Puzzle Man and we were delighted to chat to him afterwards.
Castle Menzies was a wonderful venue and we had a real mix of visitors and friends in the audience. Some new contacts in the US were made and we sent some tracks and information to From Albion and Beyond, a radio programme in Little Rock, Arkansas.
Great to be in touch with Lady Nairne fans overseas! Lovely to see some friends, we thank you for your support, and thanks also to the Spanish family who didn't know anything about Lady Nairne, never mind Archibald Menzies, but who could not believe their luck to find real traditional songs and music being performed in a beautiful Scottish castle!