Friends of Castle Menzies (FOCM), is a voluntary donors' club run by the Menzies Clan Society for the benefit of the maintenance and continued restoration of Castle Menzies, the Castle Walled Gardens, and the Old Kirk of Weem.
---
Membership Grades
There are three FOCM membership options to choose from:
Bronze:  £4 per month or £50 per annum
Silver: £8 per month or £100 per annum
Gold: £16.70 per month or £200 per annum
Members of FOCM contribute a regular monthly or annual donation and, in return, are involved in how the funds are spent.  Members can propose projects, receive updates on how the projects are going, visit the properties for free and attend FOCM events to get even more involved.
If you have an interest in Castle Menzies, its Walled Gardens and the Old Kirk and would like to be involved in the safekeeping of these historic monuments, FOCM provides an exciting opportunity for those living near and far.
All FOCM donations go directly to our charity, The Castle Menzies SCIO (TCMS) which owns and operates the properties. No administration fees or other charges are deducted from the donations we receive, so every penny donated is applied to FOCM projects.
All FOCM members will receive:
free entry to Castle Menzies, the Walled Garden and the Old Kirk of Weem
updates on our work and funding of projects
the opportunity to attend the annual FOCM lunch meeting at Castle Menzies each August (as part of the annual Menzies Clan Gathering)
the opportunity to propose items and projects to fund, and to comment on proposals
---
A Friends of Castle Menzies Project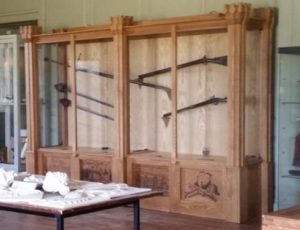 The Weapons Collection Cabinet
Friends of Castle Menzies graciously commissioned a new cabinet to display the Weapons Collection in the castle. Professional Cabinet Maker Eoghann Menzies has placed his new handsome display case in the Clan Museum in the Green Room.
---
TAX-EFFICIENT GIVING
Gift Aid for UK tax-payers
For those based in the UK, all FOCM donations are charitable donations and, as such, UK tax-payers are eligible to claim Gift Aid relief on them. TCMS equally benefits from the tax relief available to it through the Gift Aid scheme.
Our on-line payment system automatically accounts for Gift Aid if you are a UK tax-payer.  If you decide to pay by other means, we will ask you to complete a Gift Aid declaration if you appear to be a UK tax-payer.
For US tax-payers
If you are a US tax-payer and wish to pay your FOCM donation under section 501(c)(3) please let us know via our Contact Us page.