A Spectacular 16th Century 'Scottish Chateau'
Castle Menzies is a spectacular sixteenth century Scottish chateau, restored during the 20th century by the Menzies Clan Society and subsequently the Menzies Charitable Trust which then in 2023 converted into The Castle Menzies SCIO (TCMS). Architecturally fascinating, the Castle is a splendid Renaissance example of the transition in Scottish castles from earlier rugged Highland fortresses to later mansion houses.
Castle Menzies was the seat of the Chiefs of Clan Menzies for over 500 years. Situated in a strategic location, it was involved in much of the turbulent history of the Highlands. During the second Jacobite rising the Castle first hosted both Bonnie Prince Charlie, who rested on his way to Culloden in 1746 and then, just four days later, the Duke of Cumberland, son of the British Monarch and commander of the Government forces.
---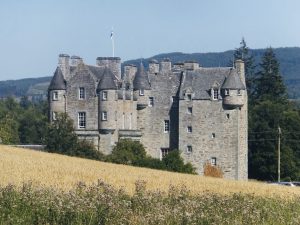 At the beginning of the 20th century the Castle began a difficult time. It had for some time been rented out and not lived in by the Clan Chief and his family, who had moved to Farleyer, a smaller mansion to the West. When the Clan Chief died, the Castle was sold and had various owners and tenants until, in 1957, it was bought as a semi-ruin by the then recently re-formed Menzies Clan Society. Since then, the Castle has been lovingly restored by generations of the Society's members and in 1993 was placed into a charity the Menzies Charitable Trust-created for that purpose by the Society-which then, in 2023, converted into TCMS.
Castle Menzies is open to all as a visitor attraction, museum, Clan centre for the Menzies Clan and venue for weddings, concerts and other hire. All income is exclusively used for the continued restoration and maintenance of the Castle, its Walled Garden and the Old Kirk of Weem.
To visit or for further information, see the Castle's own website: castlemenzies.org