NZ Clan Gathering 2022 :
---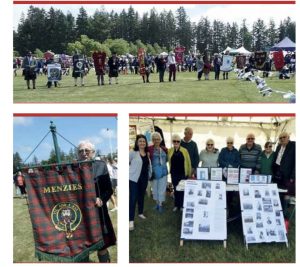 On the 5th November the 11th Hororata Highland games were held at Hororata, a small town 60km west of Christchurch. More than 10,000 people attended, the biggest Scottish gathering in the Southern hemisphere. There were 20 pipe bands from around the South Island competing, plus many dancers and different sports teams, also competing.
At the Menzies tent we had a great team of Clan people giving out information and pens. On Sunday 6th November we held a Menzies lunch at Rod and Bernie Menzies at Ohoka and about 16 people attended, a wonderful wind down after the busy day at Hororata.
Penny Ure, Member of Council
---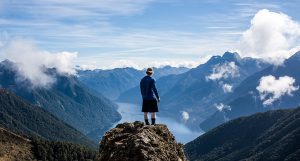 A report from Penny Ure on the 11th Menzies Clan Gathering which took place at Invercargill, organised by Lindsay and Rayelene Withington.  
"The first NZ Gathering had taken place in Invercargill in 2000, run by Pamela Hall Jones, and this was followed by Gatherings every two years at different locations, alternating between North and South Islands.  
The return to Invercargill, which had been delayed from 2020 due to Covid-19, proved to be an extremely successful event. There were two coach tours, one to Riverton, the second oldest settlement in NZ, and the other to the Catlins.  
First stop on this second tour was Wyndham to visit the memorial gates dedicated to Dr J.R. Menzies, the first superintendent of Southland.   Three of his great grandchildren, David Griffiths, Penny Ure and Dot Griffiths handed over artifacts to the museum.
On the Saturday, many more events followed, including a dancing display, piping the haggis, a dinner and a ceilidh, and on Sunday, Kirking the Tartan followed by photos and a pub quiz and another meal.  
It was another wonderful weekend."
CONGRATULATIONS Lindsey and Rayelene for organising another cracking Gathering despite Covid restrictions in NZ.
To read Penny's full report go to:
Menzies Clan Gathering, March 2021 at Invercargill
---
Invitation to Menzies Clan Gathering in Invercargill
19th-21st March 2021
---
Calling Clan Menzies with Family, Friends and Associates
You are invited to join us at the biennial Menzies Clan gathering.
This will be the 20th anniversary gathering since the first one in Invercargill in 2000.
We are now taking expressions of interest for this. There is a Tartan Festival in Te Anau over Easter, so come down early and enjoy all things Tartan or just come down for our Gathering.
Invercargill is the gateway to Fiordland, Stewart Island, the Catlins and Central Otago. Come and look around our museums: Transport World, Motorcycle Mecca, Hokonui Museum in Gore, Te Hikoi in Riverton. Or come and enjoy our many parks and gardens including Queens Park a 200 acre jewel close to the centre of town. Even if you know no one else, this is an opportunity to reconnect and explore your roots in a wonderful environment.
This event is suitable for all ages, a celebration of our shared history and ties to Scotland. Come south for a memorable, fun filled and social get together. The Ceilidh is a cultural experience second to none, Haggis, bagpipes, Highland Dancing and folk dancing to join in.
The Menzies Clan has its own Castle in Scotland and Chief, David Menzies of Menzies. His NZ commissioners will be present. If you have historical objects, family trees, family histories or memorabilia to show, please bring these to share and build the bigger picture for others.
Dress: come for a social weekend away, a formal dinner and daytime events. Wear your Menzies colours if you have them, otherwise came as you are comfortable.
You will be made welcome as you come along for an enjoyable and different weekend away, or just for any part of it, such as the Ceilidh (Saturday night with the Address to the Haggis, formalities and dancing).
Short time or the whole weekend, we would love to see you.
We look forward to seeing both old and new faces.
Lindsay & Rayelene Withington
For any further information
Contact Lindsay on 0274748796
Menzies Gathering 2021 Registration form
---
NZ Clan Gathering at Waipu, April 2018
---
The 10th NZ Menzies Clan Gathering was held on 20 to 22 April 2018,
at the small beautiful town of Waipu, north of Auckland NZ, organised by Bill Buddo and Robert Menzies.
We gathered Friday evening at the Celtic Barn for registration, a light meal, the Commissioners shout and reacquainting and meeting fellow clansmen and clanswomen. Dennis Menzies, after gaining approval from the Chief presented Bill Buddo with permission to wear 'the feather' in bonnet, as North Island's Chief Commissioner of New Zealand. Well done, Bill!
Saturday
For the Saturday morning tour, we travelled to the small community of Matakohe to the Kauri Museum. This is a world class museum showcasing the Kauri tree, its gum and use of. Some of us went on to visit the Piroa falls which is a photographers dream. At the Celtic Barn in the afternoon there was a Scottish dancing display performed with music by the 'Twisty Willow' Celtic band, and for those keen to practice before the evening Ceilidh.
The Toasts:
The formal part of the evening included piping and addressing the Haggis.
To the Queen by Penny Ure (MCS Council member)
To the Chief by Dennis Menzies (Chief's Commissioner for the South Island)
To absent friends by Robert Menzies (NZ Clan Society)
To them and Ahs Like Us by Bill Buddo (Chief Commissioner for the North Island)
The Ceilidh.
The Ceilidh was most enjoyed with a mixture of Celtic and Scottish dancing, and singing, and with a little encouragement for everyone to join in. At times the dancing was chaotic, but very funny as we attempted to follow the 'experts' without causing too much mayhem, to the delight of those watching. Sunday service was held at the local Presbyterian church. Robert Menzies explained the history of Menzies in New Zealand and the reason for the Gathering. A delicious morning tea followed, to meet the locals. Before lunch we gathered to take part in the games: Tossing the sack, then the gumboot over the goal post. Plus tossing the Caber, but not over the goal post. All very well won by the younger members of the clan. Not to be forgotten, one gumboot was even tossed backwards to the amusememt of those present. Two new members have now joined the NZ clan society so we welcome them.
Lunch and Farewells
Lunch and then farewells to our clansmen and clanswomen and we can look forward to the next gathering at Invercargill in the far south of New Zealand in 2020. Our sincere thanks to Bill Buddo and Robert Menzies for a wonderful weekend and we leave with many happy memories.
recalled by Penny Ure 2018