Menzies Modern Hunting Tartan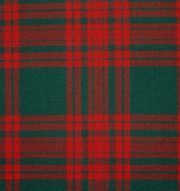 The Red and Green colours of this Tartan are said to have come from nature - the Rowan tree (mountain ash) with its green leaves and orange/red berries. This plant is the Hunting Badge of the Clan. The Tartan consists of a green background with seven red check lines.
Menzies Ancient Hunting Tartan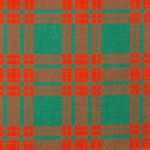 A paler version of green and more orange red is called the Ancient Hunting. It gives the appearance of the colours being produced by natural plant dyes.
Menzies Full Dress Tartan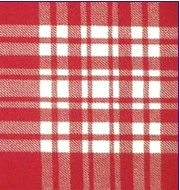 The simple Red and White colours in its composition marks it as one of the oldest Menzies Tartans and the oldest known registration is that of Sir Thomas Menzies in 1320. Certainly it is one of the brightest. The colours match the clan shield - consisting of a "chiefgules" - a red band across a white shield. The red and white colours are said to have been chosen because the full-dress badge of the clan was the Menzies Heath - this heather's flower petals have a red base and white tips.
Menzies Mourning Tartan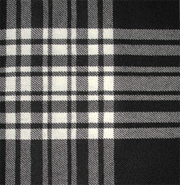 This Black and White tartan is now called the mourning tartan although it originally appears to have been the tartan of the Menzies families of the South West Scottish borders - Durisdeer and Enouch. This is said to have come from their shield granted in 1370 - 'a chief sable' - black band across a white shield.This has a black background with seven white check lines in exactly the same sett as the others. It is recorded that clansmen attending funerals of their chiefs would wear the full-dress red and white kilts, therefore it is not exactly clear how this became the mourning tartan - perhaps as a shawl worn by the women. In modern times it has certainly been a fashionable choice at different times and it would be no problem to find jackets, skirts, trousers to buy in shops - all in various different sizes of the sett.