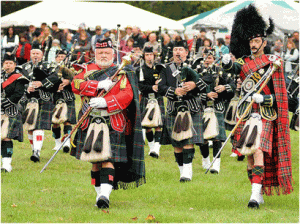 SAVE THE DATE!
Menzies Clan Society of North America will be represented at the San Diego Scottish Games June 22 and 23; we'll have a booth with information on the Menzies Clan Society, how to join, Castle news and our Menzies Genealogical Preservation Project which includes building a DNA historical database. Come check it out, if you're in the area.
We Need Your History!
---
2019 North American Event Calendar
Mar 2-3
Arizona Scottish Gathering & Highland Games (Phoenix, AZ)
Apr 6 
National Tartan Day of Washington State (Capitol Building, Olympia, WA)
Apr 12-14
Arkansas Scottish Festival (Lyon College, Batesville, AR)
Apr 27
Southern Maryland Celtic Festival & Highland Gathering (St Leonards, MD)
June 1
Bellingham Scottish Highland Games (Ferndale, WA)
June 1

Allegany County Celtic Festival (Cuba, NY)

June 21-22
Tacoma Highland Games (Tacoma, WA)
June 22-23
San Diego Scottish Highland Games (Vista, CA)
July 27
Pacific Northwest Scottish Highland Games & Clan Gathering (Enumclaw, WA)
Aug 23-24
Jamestown Regional Celtic Festival (Mayville, NY)
Aug 31-Sept 1
Virginia Scottish Games (Labor Day weekend) (The Plains, VA-Washington, DC metro)
Sept 14-15
Niagara Celtic Heritage Festival (Olcott, NY)
Sept 20-22
New Hampshire Highland Games & Festival (Loon Mtn, Lincoln, NH)   * 

HOST ASSISTANCE NEEDED*

Oct 19-20
MCSNA Annual General Meeting + Stone Mountain Highland Games (Stone Mtn, Atlanta NE suburbs)
Nov 30
St. Andrews Day/National Scotland Day – worldwide
Dec 7
Alexandria Scottish Christmas Parade & Clan Holiday Social (Alexandria, VA-Washington, DC Metro)
Contact the Development Director for all event inquiries including any interest in new events or event hosting /co-hosting.
---
MCSNA Event Awards
There have been 4 North American Awards since 2014.
Distinguished Clan in 2017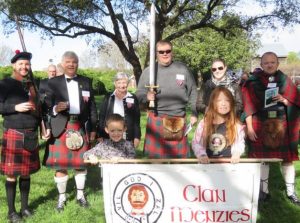 Clan Menzies celebrating with drams of Dewars
Clan Menzies was honored as the Distinguished Clan at the 2017 Loch Norman Highland Games & Rural Hill Scottish Festival at Loch Norman in Huntersville, NC (CharloMetro) in April 2017 where the clan also convened its Annual General Meeting. Our President Rory Menzies and his lovely wife Lisa were Guests of Honor for the weekend and were presented a beautiful framed photograph of our beloved Castle Menzies. This photograph was taken by award-winning Scottish landscape photographer and devoted clan supporter Adrian Jenkins.
---
Best Clan Tent in 2016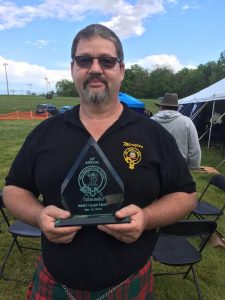 In May 2016, Clan Menzies was again a winner at the now re-titled Mid-Maryland Celtic Festival, in Frederick, Maryland. Clan Menzies won Best Clan Tent for our interesting and informative visual display as well as our enthusiastic visitor experience. As with all our fellow event hosts, we take pride in sharing information about our ancient and important clan, the Castle Menzies Estate and their importance in Scottish and Scottish-North American histories.
---
Honored Clan in 2016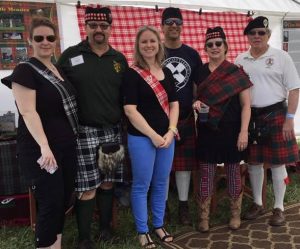 For the second year in a row, we held our banners high as Clan Menzies was the Honored Clan, this time at the Virginia
Scottish Games held over Labor Day weekend in early September outside of Washington, DC. in The Plains, VA. Piped in by our very own society member Keaton Adler and the Lyon College Pipe Band (Arkansas), Clan Menzies led the Parade of Clans around the Clan Village and onto the Parade Field for the Opening Ceremonies. We also held our AGM on that sunny Saturday.

---
Honored Clan in 2015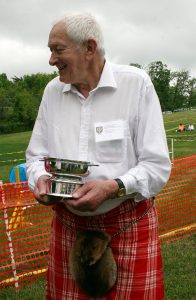 Clan Menzies was the Honored Clan at the Maryland Celtic Festival located in Frederick, Maryland in May 2015. George M. Menzies (our VP of North American Affairs, and Trustee of the Menzies Charitable Trust), travelled from Edinburgh, Scotland for the event and led the clan as we marched the Parade of Clans onto the festival parade grounds during the Opening Ceremonies. George was presented a beautiful engraved silver quaich for the Society's behalf.
We proudly display the Quaich at many games.
---