2021 NOTICE OF MEETING for all MEMBERS of MCSNA, to be held on OCTOBER 16 at 1:00 p.m
To the Members of the Menzies Clan Society of North America, Inc.
PLEASE TAKE NOTICE that the annual meeting of the members of the Menzies Clan Society of North America, Inc., will be held at the Stone Mountain Highland Games, 1000 Robert E. Lee Blvd, Stone Mountain, Georgia on Saturday, October 16, 2021 at 1:00 p.m
All members are urged to attend the meeting in person or by proxy.
For all details and proxy, log in to the MCSNA page in the Members Private area.
---
2021 VIRTUAL NYC TARTAN DAY PARADE (New York) APRIL 10, 2021
"More Scottish fun than one can handle!!!!" says MCSNA Vice President Gordon Brown and Secretary Scott Gardner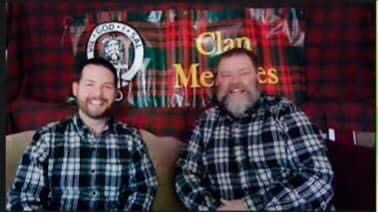 A big thank you to Karen Kane for organising our Clan Menzies representation and Zoom image for the VIRTUAL NYC Tartan Day Parade, April 10, 2021.
Attending Clan Society members were Scott Gardner, Gordon Brown, Karen Kane, Joel Wallman and Rory & Lisa Menzies, Sean Menzies and our President Pauline Wyllie.
⚔️
---
2020 North American Event Calendar
Due to the COVID-19 Virus pandemic the following Events have been cancelled:-
June 6, 2020
Allegany County Celtic Festival
April 4, 2020
MCSNA Annual General Meeting 1pm  (New York)
TARTAN DAY PARADE (New York)
Contact Representatives of Canada and North America for all event inquiries including any interest in new events, fundraising or event hosting /co-hosting.
---
MCSNA Event Awards
There have been 4 North American Awards since 2014;
Distinguished Clan in 2017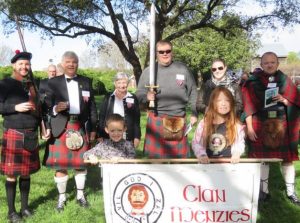 Clan Menzies was honored as the Distinguished Clan at the 2017 Loch Norman Highland Games & Rural Hill Scottish Festival at Loch Norman in Huntersville, NC (CharloMetro) in April 2017 where the clan also convened its Annual General Meeting. Our President Rory Menzies and his lovely wife Lisa were Guests of Honor for the weekend and were presented a beautiful framed photograph of our beloved Castle Menzies. This photograph was taken by award-winning Scottish landscape photographer and devoted clan supporter Adrian Jenkins.
---
Best Clan Tent, May 2016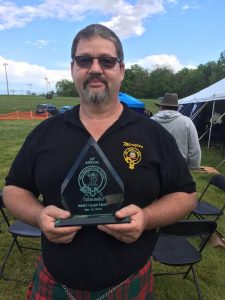 In May 2016, Clan Menzies was again a winner at the now re-titled Mid-Maryland Celtic Festival, in Frederick, Maryland. Clan Menzies won Best Clan Tent for our interesting and informative visual display as well as our enthusiastic visitor experience. As with all our fellow event hosts, we take pride in sharing information about our ancient and important clan, the Castle Menzies Estate and their importance in Scottish and Scottish-North American histories.
---
Honored Clan in 2016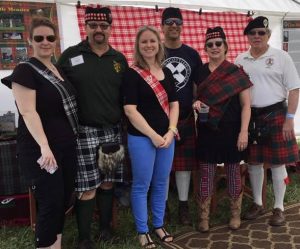 For the second year in a row, we held our banners high as Clan Menzies was the Honored Clan, this time at the Virginia Scottish Games held over Labor Day weekend in early September outside of Washington, DC. in The Plains, VA. Piped in by our very own society member Keaton Adler and the Lyon College Pipe Band (Arkansas), Clan Menzies led the Parade of Clans around the Clan Village and onto the Parade Field for the Opening Ceremonies. We also held our AGM on that sunny Saturday. 

---
Honored Clan in 2015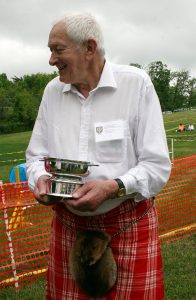 Clan Menzies was the Honored Clan at the Maryland Celtic Festival located in Frederick, Maryland in May 2015. George M. Menzies (our VP of North American Affairs, and Trustee of the Menzies Charitable Trust), travelled from Edinburgh, Scotland for the event and led the clan as we marched the Parade of Clans onto the festival parade grounds during the Opening Ceremonies. George was presented a beautiful engraved silver quaich for the Society's behalf. We proudly display the Quaich at many games.
---