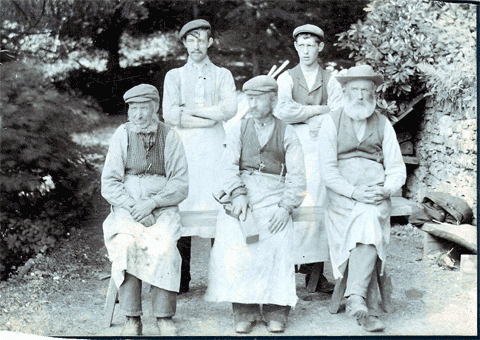 MCS Historical Resources
The Menzies Clan Society has in its possession a small collection of papers, acquired through various means, which may be useful to those interested in tracing family members and genealogical information.
Unfortunately these resources are limited due to two major historical incidents.  Namely the burning of the original Menzies stronghold of Comrie Castle in a dispute with a neighbour (and with it the family papers) and secondly the dispersal of the contents of the family strongroom when the estate was broken up and the castle's contents sold in 1919.
Please contact the Secretary> of the Society for an appointment to access the MCS historical archives.
---
The Menzies Y-DNA Project
Menzies Clan members, you can now take Genealogical Research further than before with the accessibility and affordability of DNA kits from popular companies to aid carefully researched family trees. But what happens when you run into a brick wall in your research? Is there a tool that can confirm close relations with two branches that aren't connected through documentation? The answer is yes.
Officially launched in Nov. 2018, the Menzies DNA Project aims to break new ground in what's known about the surname and the septs associated with the Menzies Clan. The project and testing are offered through FamilyTreeDNA and primarily focuses on reading the male Y chromosome to document lineages, place surname branches into genetic families by matching lineages and solve historical mysteries.
Links for more information:
---
An Adventure into DNA
Genealogy has long fascinated me. For over forty years I have been researching Menzies family trees. My grandfather once told me that we were related to all of the South Island (New Zealand) Menzies, but he was unsure of the North Island Menzies. So armed with this information I set about all those years ago to find my family roots. I was in luck for my grandfather had years before, asked his Grandmother (his father having died young) for his family tree. In an old letter he sent me were details going back to 1793.
I started noting Menzies settlers' family trees in the hope of finding a connection to my own. This resulted in a book I published about New Zealand Menzies settlers. None seemed to come from the same areas as mine (Rawer, Boltatchen, Dercullich, Aberfeldy, Weem, and Dull). When Ancestry adverts started appearing on television to test your D.N.A. I hummed and ahhed for nearly a year, then at my wife's urging, I sent away for the kit. I eagerly awaited the kit which they emailed was on its way. Then the big day arrived, so I called my computer wizz brother-in-law, and asked him to help with the on line registering of the sample. Followed by a rush to the post office to dispatch the salivia sample.
A message by e-mail confirmed the arrival of the sample. Finally the e-mail confirmed that my results were in. On line they showed a map of the area where my genetic material was derived; then lists of those to whom I was genetically related (they had already taken the test and were on their data base). Genetic cousins to many degrees were listed. I lost count at over 100 pages, and as yet have not been able to look through them all. I immediately sent out messages to those shown to be closest to me genetically. Unfortunately, many must have given up, because some had not been on the site for months, or, indeed, years.
I got replies from many helpful people, but failed in many cases to find the connection. One branch on my Mothers side took me right back to Griffiths in Wales in the sixteenth century. Then I discovered that one could search the names by surname, and bingo, up popped four hits that were Menzies; sadly, only one replied. He lives in England although his family hails from Scotland. The connection is somewhere around our fourth or fifth great-grandfather.   Where the link may lie we have yet to determine, however there is now hope of finding the elusive links to other clan members. The results have linked me to many relatives on both my mum and dad's sides. As more and more people take the test the data base grows, therefore increasing the chance of finding missing links in peoples' family trees.
So I urge all you fellow clans-folk, to take the test.
recalled by Dennis Menzies, New Zealand.
---
The Scottish Genealogical Society can recommend a professional researcher.
The Scottish Genealogical Society
15 Victoria Terrace
Edinburgh
EH1 2JL
Phone: 0131 220 3677
Web: http://www.scotgenealogy.com
Email: info@scotgeneolgy.com
The official government source of genealogical data for Scotland
http://www.scotlandspeople.gov.uk/
Those from the United States may find this link to Ellis Island useful
http://www.ellisisland.org/
These are commercial sites that have been recommended by members that you may find useful.
http://www.origins.net
http://www.genuki.org.uk/
http://www.ancestry.com